Sippin' in the City: San Diego Brewery Tours
Sippin' in the City: San Diego Brewery Tours
Craft Breweries, Local Flavors!
"Stay Crafty, San Diego!"
Whether you're a beer fan, history buff, or casual sightseer, you're sure to find something to satisfy when you step out on one of our San Diego brewery tours. So what can you expect from a So Diego beer tour experience? Each of our brewery tours will take you to several local San Diego breweries, where you'll be treated to a special beer tasting and delectable San Diego snack. Along the way, your tour guide will serve up stories of the city, its diverse neighborhoods, and the world-class beer makers transforming San Diego and Southern California.
Any of our brewery tours can be booked for private groups of 10 or more guests. They're anything but ordinary, and for a more elevated experience, we can sprinkle some unique offerings tailored just for you! Contact us to discuss.
From Barrio Logan to Ocean Beach: The Best Beers All Over San Diego
If you're a beer lover looking for a great craft beer tour, San Diego has you covered, with so many amazing, different neighborhoods to explore, most of which feature at least one stellar craft beer tasting room or microbrewery. Tour San Diego on foot, and you're sure to find a tasty brew in your hand!
On each walking tour, you'll visit 3 breweries, taste 3-4 beers at each location, and enjoy a snack at one of the stops. 
We offer walking, neighborhood San Diego brewery tours in the following neighborhoods:
 North Park is an urban neighborhood lined with historic craftsman homes, craft breweries, street art, and delicious eateries.  It's an area known for its art scene, and historic theater.  There are a lot of instagrammable walls to pose in front of, and the breweries play into the artistic culture with their unique sense of style in not just their venue, but in the beer as well.
Ocean Beach, otherwise known as OB, is a laid back beach town where the surf is great, the food is delicious, the beer is flowing, and the shops are intriguing.  It is an eclectic neighborhood where tie dyed shirts are the norm, drum circles can be heard in the evenings, and a walk on the pier for sunset is breathtaking.
Little Italy Brewery Tour
Little Italy is today's number one destination for locals for food and drinking fun.  The mid-rise buildings are fresh and new, and the streets are filled with fashionable young professionals who love to get out and be seen. The smell of Italian food fills the air as it has for about 100 years since Italian immigrants took over the area as the top fishermen in the area.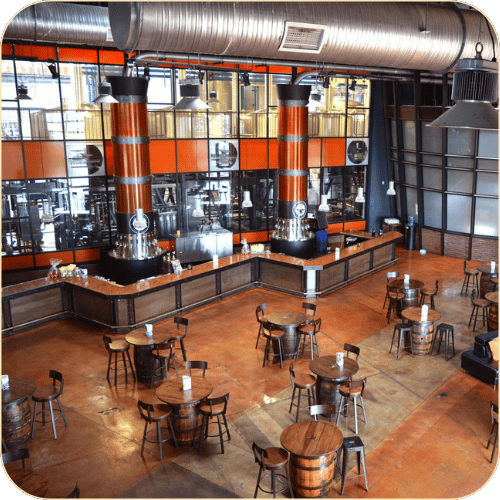 Miramar is also known as "Beeramar" for its abundance of brewing production facilities.  It's a mecca for beer lovers, as you can visit breweries large and small, and speak to the people behind the scenes of all of the incredible beer that is made with love and passion in San Diego.  
About San Diego Brewery Tours
San Diego brewers are a proud part of the city's culture, renowned across the country (and the globe!) for the passion and craft they bring to the world of beer. Tour the neighborhood of your choice and soak up some local flavor as you learn about the connection between local breweries and the vibrant communities surrounding them.
The best of both worlds

– So much more fun than a simple walking tour and way more interesting than a basic San Diego brewery crawl, our San Diego brew tours combine the culture and camaraderie for a curated experience you're sure to remember.
So much on tap

– When you join the most carefully curated microbrewery tour San Diego offers, you'll discover neighborhoods as diverse and vital as the people who live there. Choose between several thrilling tours, each highlighting the culture and flavors of the neighborhood.
A flight of offerings

– Don't worry about picking the right brewery for your outing. On a So Diego brewery tour, you'll experience them all. Each walking tour includes stops at three neighborhood breweries or tasting rooms.
A taste of the city

– While you're cruising to your next craft beer, your guide will regale you with stories regarding the neighborhood's history and its special place in San Diego culture.
A peek behind the pour – You'll learn about the history and culture of the local brewery from a representative who will briefly talk about their brewing process, how they started, and the role they play in supporting their community.
FAQS