Vamos A Old Town Por Favor: Historic Landmarks, Events & Mexican Restaurants in Old Town
Nestled in the southeast nook between the I-5 and the 8 freeways, and just a quick drive or town trolley ride from the Gaslamp Quarter in Downtown San Diego, you'll find the oldest settlement in California: Old Town, San Diego. In 1769, the first European settlers established their mission and fort with just a couple of hundred people, and since then, the land had switched from Spanish territory to Independent Mexico, and now as part of one the largest cities in the U.S. The culture of today's Old Town still captures the essence of the beginnings of the humble town and it's ancestries, as well as the transition into becoming a part of the United States of America. Some of the oldest buildings in California can be visited today, and there are plenty of Mexican restaurants and delicious margaritas to taste throughout the neighborhood. With so many things to do, it's easy to get overwhelmed, but lucky for you, we've got a list of top things to do as well as a taco and tequila tour through Old Town, San Diego.
HISTORY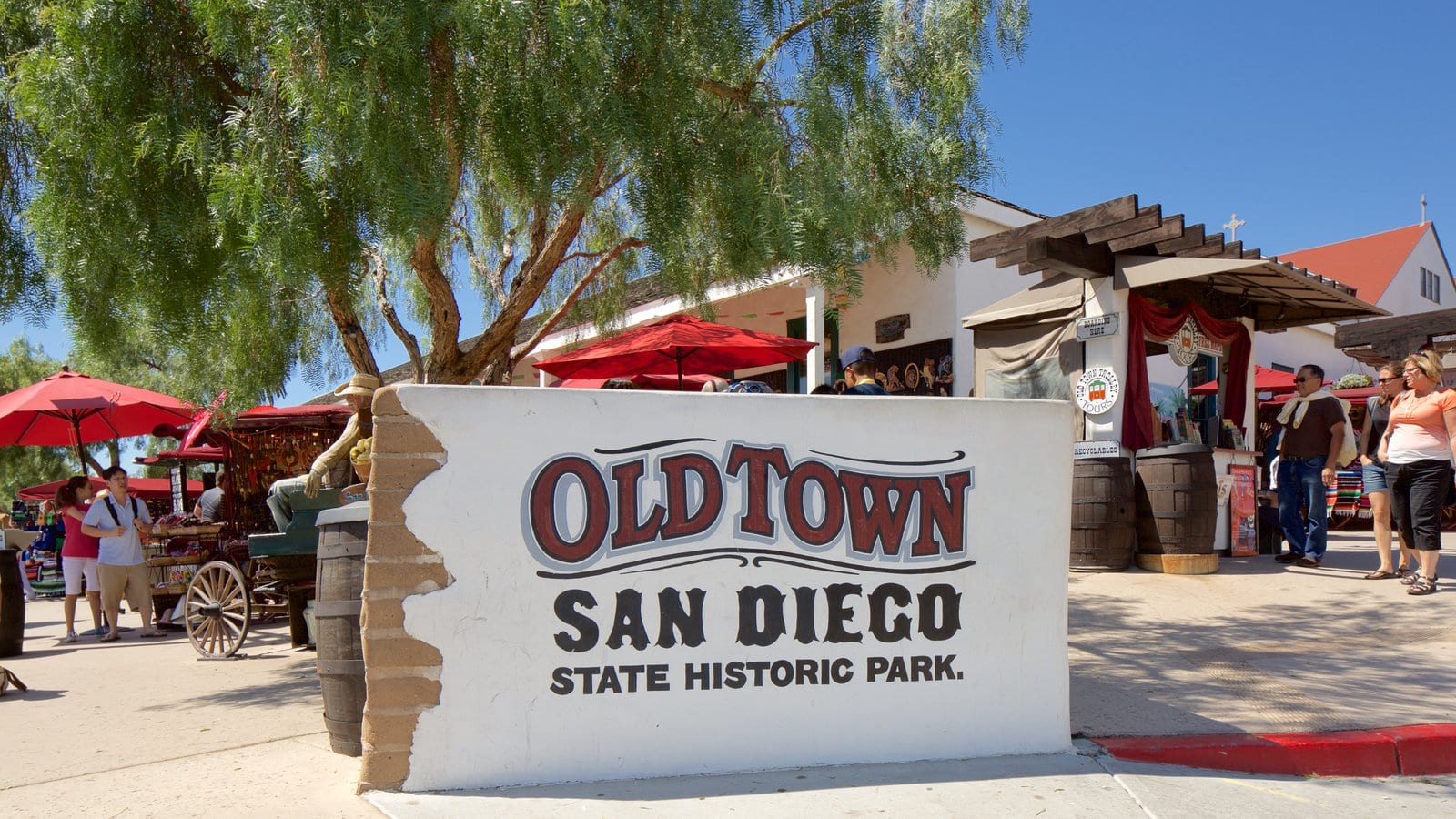 Old Town got its name when it was less than a hundred years old as San Diego started to grow closer to the San Diego Bay with the first port that opened in 1869. Once the port was built, businesses moved to the new development calling it New Town, San Diego. Old Town experienced a major decline in population, however several of the original buildings survived, and can be visited today. In 1968, the state of California dedicated the area as a State Historic Park, and they invested money in building replicas of many of the important historic buildings built between the 1820s and 1870s. Today the history is celebrated and remembered in the museums, hotels, specialty shops, and visitor center.
Here is a brief list of our favorite original buildings and historical sites in the area:
La Casa de Estudillo:
This original adobe house is known as the first mansion in California and was home to the wealthy Estudillo Family. You can visit La Casa de Estudillo during normal business hours. Simply walk in, and chat with one of the docents.
Casa de Bandini/Cosmopolitan Hotel:
The bottom floor of this hotel was once the adobe-made home of the Bandini Family. They moved to Los Angeles, and the building was sold to the Seeley's who repurposed the structure into a 2-story hotel. Today you can enjoy food and drinks in the courtyard restaurant, or stay the night in one of their 10 rooms.
Whaley House:
This Greek-Revival style home was famous from the moment of its construction. It was built on a lot where hanging executions occurred. Since then, it's been known as a haunted house, and has even been deemed a haunted landmark by the state of California. Other than the paranormal, the Whaley House was San Diego's first brick house, a legitimate courthouse, the first public theater, as well as many other businesses.
Mason School House:
Visit the first public schoolhouse in San Diego County, and get an idea of what it would have been like for all of the kids of the small town to study here. Just outside you'll find a list of rules, which will make you realize how easy detention seemed compared to getting spanked 10 times for playing cards at school.
El Campo Santo Cemetery:
This is one of the oldest cemeteries in San Diego, and it has over 400 bodies buried within its grounds. Find original tombstones, and meet some of the early San Diego residents by visiting their gravesites.
MEXICAN FOOD
It's no secret that Old Town is known for their Mexican Food, but there are so many restaurants to choose from, that it can be a little daunting to decide where to go and what to order. Here is a list of our favorite Mexican restaurants in Old Town with our favorite items on their menu.
Café Coyote:
Even if you don't eat here, stop by for a fresh handmade flour tortilla, or two. You'll see the ladies making them at the front of the restaurant. They have chocolate and strawberry flavors you can enjoy with butter, or grab a traditional flavor, and don't forget the chips and salsa! Café Coyote has hundreds of items on their menu, but we particularly love the sizzling fajitas and slow cooked carnitas tacos with freshly made guacamole. You can enjoy a tequila tasting experience led by a tequila representative on Thursdays, or enjoy one of their many margarita flavors. We love to keep it simple with a skinny margarita with Fortaleza tequila.
Rockin' Baja Lobster:
This restaurant specializes in authentic Mexican food from Baja California, which is the peninsula just south of the San Diego border, which is known for their seafood including fish tacos and lobster. Baja has been a haven for American surfers and adventurers, and you'll see this translated in the décor of the restaurant. Rockin' Baja offers their signature Baja Buckets, which give guests a taste of what you'll find at restaurants at a popular port called Puerto Nuevo. In the Buckets, you can have flash fried lobster tails and seasoned shrimp with all the fixings that include tortillas, beans, and citrus lime rice.
El Agave:
El Agave Restaurant is for the true foodie – for the guests who are interested in a more authentic and refined taste of Mexico. Their dining room is romantic, and their tequila selection, superb. They even have a tequila museum! The margaritas and mezcal cocktails are incredible, and the food is even better. We suggest that you try the Trilogia de Moles. Mole is Mexican's version of a curry but tastes nothing like a curry. It's an ancient sauce made with sometimes over 50 ingredients and typically poured over chicken or pork. The flavors are rich and unique, and the Trilogia offer 3 moles in one dish.
The Alamo:
For a quick bite in between sightseeing and shopping, head into The Alamo for one of their burritos or a combo plate. The staff is friendly and easygoing, and the prices cannot be beaten. Try a San Diego iconic burrito like the California Burrito, which comes with carne asada, French fries, pico de gallo, guacamole and sour cream, or for a lighter dish, opt for a tostada, which is a salad with  refried beans on top of a fried corn or flour tortilla.
ANNUAL EVENTS IN OLD TOWN
In addition to the many museums, shops, and restaurants that will keep you busy in Old Town, the historic park puts on some iconic events throughout the year. Plan your trip around an event, and you'll get that much more out of your trip to the already awesome city of San Diego!
Cinco de Mayo (the weekend of May 5)
The Cinco de Mayo celebration in Old Town offers visitors a full weekend of food, music, entertainment, and shopping. From Lucha Libre wrestling matches to Mariachis, to groups of folklore dancers, a low-rider car show, and so much more, this fiesta embodies everything fun and colorful that is Mexico/Mexican.
Day of the Dead
From Oct. 31 to Nov. 2, Mexicans celebrate the tradition of the Day of the Dead, or Día de Los Muertos. Families create altars of their deceased loved ones, remembering their time on earth and providing them love and gifts of their favorite items and food for their spiritual journey in the afterlife. In Old Town, many of the shops, museums, and restaurants create their own altars, and at the end of the day on Nov. 2, they hold a procession from the State Park to El Campo Santo cemetery to bring flowers, candles, and prayer to those deceased. You can get your face painted like a Calavera – a sugar skull traditionally handmade for the celebration – at many of the Old Town businesses.
Taste of Old Town (early October)
The Taste of Old Town allows guests to visit 12+ restaurants in one night all within walking distance. With one ticket, you have 4 hours to walk around the neighborhood, stopping in at different restaurants for their dedicated food sample. Many of the Mexican restaurants will have great drink specials and live entertainment, making the evening more like a fiesta with great food and spirits!
Las Posadas (early December)
In Mexican tradition, a posada is a reenactment of Mary and Joseph's pilgrimage to Bethlehem looking for a safe room for the birth of Baby Jesus. The celebration lasts 9-days and brings families together with food and song. In Old Town square, you can join the procession in one day in early December, and enjoy a live nativity scene and a mini-concert by a choir.
Many Old Town visitors oversee all that is historic Old Town, San Diego. Yes, it's touristy and fun, but it's important to understand the history and heritage of California, which all started here.