San Diego History – Gaslamp Quarter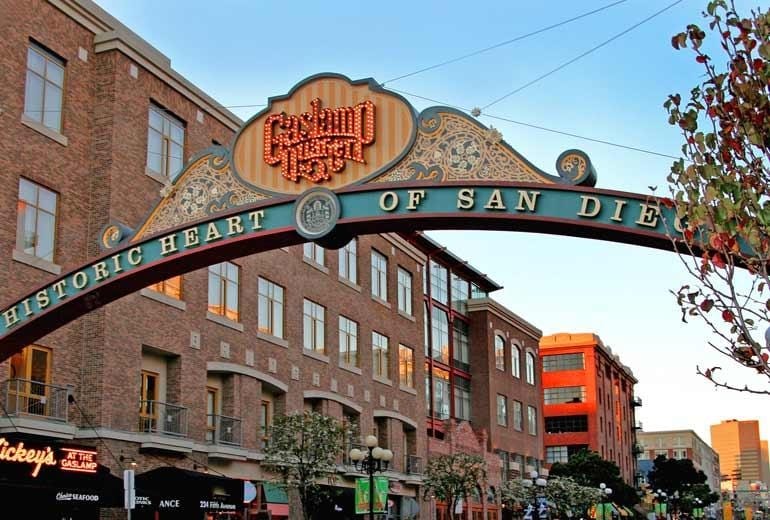 First developed in 1850 as New Town, the historic Gaslamp Quarter as it is now known was quite like something you've seen in Wild West movies or read about in history books.  Crawling with sailors, bars and brothels, this red-light district remained an area of ill repute until the 1970s when local businesses were able to initiate enough interest to make a change.  They created a master plan with a Victorian theme to transform the 16 square-block area stretching from Broadway to the Bay between 4th and 6th Avenues. Today, you'll find a mix of modern skyscrapers standing tall next to Victorian-era historic buildings and a diverse neighborhood of more than 200 of the city's best retail shops, art galleries, hotels, fabulous restaurants, bars, nightclubs, offices, and residential lofts, condos, and apartments.  Continue reading on to learn more about this eclectic neighborhood and its sordid past or consider going on a San Diego tour to see what this neighborhood is all about yourself!  
Where it all Began
In 1850, William Heath Davis began developing land near what is now the foot of Market Street to establish a town on San Diego's waterfront.  Because of the economic depression, the venture failed, and it was not until 1867 that any further development occurred. When Alonzo Horton arrived in San Diego from San Francisco, he decided to build a new downtown on the site of Davis' failure close to the waterfront and purchased 800 acres at auction for approximately $250.  Two years later, he spent $50,000 to build a wharf at the end of 5th Avenue and purchased an additional 160-acre parcel known as the Horton Addition for $4,000.  That same year, he sold $5,500 worth of residential and commercial lots in one day as the New Town boom began.  The development continued, and he built the town's first public theatre with seats for 400 as well as the first bank only a few years later.  
Bars & Brothels – The Stingaree
During the 1880s, the thriving success attracted some not so great characters that were seeking to take advantage of the city's growth.  Prostitution began and at least 3 gambling halls were opened. City development moved north of Market Street and the almost abandoned area to the south became a red-light district known as the Stingaree – the name said to come from the fact that you could be stung as badly in the Stingaree as you could be by the fierce stingrays in San Diego Bay!   By 1887, there were at least 350 prostitutes working in approximately 120 bordellos and over 70 saloons! Learn about some of the scandals of the area on the Brothels, Bites and Booze food and drink tour of the historic Gaslamp Quarter to get better acquainted with all that is the Gaslamp.
Around 1890, the real estate boom ended, and the population dropped from about 40,000 to 16,000.  Alonzo Horton made a deal with the City and sold a valuable ½ block of land for $10,000 stipulating that it must remain a park forever – that area is now known as Horton Plaza Park.  In the early 1900s, a wave of morality swept across the city and the police began raiding the Stingaree trying to shut-down the red-light district. In 1913, the red lights were officially turned off.  San Diego then became very unpopular as a navy port and lost even more tourism to San Francisco.
World War II until the early 1970s
The suburbs outside of downtown San Diego experienced quick growth after World War II with an influx of new businesses and residents.  Downtown was no longer known as residential and the Gaslamp District became home of sleazy bars, pawnshops, tattoo salons, and locker clubs.  Many risqué businesses including massage parlors, adult bookstores, and peep shows were opened and continued until well into the 1970s.  
Historic Transformation
In 1974, businesses and property owners banded together to petition the City to help revitalize the Gaslamp Quarter and close-down the risqué and sleazy industries that occupied the area.  The San Diego City Council agreed to provide $100,000 for rehabilitation and to help develop design guidelines to preserve the district's history and aesthetics. The Gaslamp Quarter Urban Design and Development Manuel was adopted by City Council in 1976 and in 1980 the Gaslamp Quarter was listed on the National Registrar of Historic Places creating a framework for what it's become today!  In 1990, the Gaslamp Quarter Archway was built and installed weighing over six tons!
Where it's at Today
Today, the Gaslamp District is the center of San Diego's nightlife scene and in addition to fabulous restaurants, bars, and shops, it boasts many cultural choices including art galleries, concert venues, museums, theatres and a symphony hall.  You'll find every type of cuisine and you'll have the option to dine outside on the sidewalks, in roof-top bars and lounges, at casual indoor pubs, or elegant and ornately designed fine dining restaurants. There are even a few underground/speakeasy bars in San Diego that pay tribute to the history of the area.  You could spend an entire day shopping at the many stores, trendy boutiques or art galleries the areas is known for or just walk the streets and people watch. At night, the Gaslamp Quarter transforms into an urbane cosmopolitan playground with rooftop bars, private clubs, and fabulous music options. Whether you want to get your dance on to a DJ on the dance floor, attend a comedy show or listen to live music at one of the many venues, there is something for everyone!  The area is very walkable but if you'd like to get around with your high-heels on, consider hopping on one of the many pedicabs – they'll take you anywhere you'd like (even if just a few short blocks) while playing your favorite music and displaying neon lights that will turn heads.
If there's too much you'd like to do and you're not sure where to start, consider joining  So Diego Tours on the Brothels, Bites and Booze tour for a historic tour of some of the Gaslamp's best local restaurants.  They can also do a nightclub tour giving you access to some of the best nightlife spots in San Diego without the hassle of standing in line or high cover-charges.  Gaslamp Quarter is waiting for you to discover it!