Tempting Tequilas – Where to Taste the Best Tequila in San Diego
You want tequila? You've come to the right town! When planning a day in San Diego, tasting the delicious tequila in the vibrant hispanic culture can't be missed. With San Diego situated so close to the border of Mexico, it's no surprise that one can find many spots for tequila tasting in San Diego.  From North County to South Bay, the San Diego tequila scene offers restaurants and bars with one-of-a-kind atmospheres, serving up the spirit of Mexico to sip and savor straight-up or in cocktails.  Pair them with incredible traditional and contemporary Mexican cuisine, and you're experiencing a uniquely-San Diego delicacy! 
San Diego is home to a myriad of delicious street taco vendors, exciting live entertainment, and a unique tequila experience. So, where's the best place for delicious tacos and tequila San Diego? 
For an intimate experience that helps you navigate the world of tequila and tacos, So Diego offers a walking tour of Old Town San Diego on the Tequila, Tacos & Tombstones Tour.  The neighborhood of Old Town, San Diego is a historic neighborhood known as the birthplace of California. It represents Mexican culture since San Diego was once a part of Mexico before the Mexican-American war.  For those who want to experience the best tequilas San Diego has to offer outside of Old Town, book a multi-neighborhood private Tequila Tasting Tour for groups of 10 or more!
A Little History of Tequila…
The main component of true tequila is the blue agave.  Aztecs in Northern Mexico, dating back from 1000 B.C.E., first harvested sap of the agave and fermented it to create a drink used in religious rituals. It wasn't until the Spanish colonizers appeared in the 1500s that distillation was introduced to the process.  Distilling the drink gave it a better taste, and the practice was used throughout Mexico with various agaves to produce Mezcal, which is the name of any spirit produced by agave.  Tequila is a form of Mezcal but is made solely from the blue agave and is only produced in Tequila, Jalisco.  It's known to be smoother in taste and doesn't have the smokey flavor mezcal has become known for.  There are 3 types of tequila, and the differences between the 3 are the flavors that come from aging the spirit and how the tequileria ages their unique products.  The three types of tequila are blanco – typically no aging, reposado – about 1 year of aging, and añejo – aged for 3+ years.  The best tequila cocktails are made with blanco and reposado tequilas; blanco gives it a cleaner flavor, and reposado gives the cocktail a more robust/woody flavor.  Añejos are reserved for the tequila sipper who wants to enjoy the complexity of tequila and the art of aging by the tequileria. 
Tequila Tasting in San Diego
It doesn't have to be Cinco de Mayo to taste delicious tequila in San Diego. One of the most iconic tequila destinations in San Diego is El Agave – a restaurant, tequila bar, and tequila museum that offers premium tequila tastings.  It will take you years to taste all of their 2,000 tequilas on their tequila menu.  Enjoy a tasting flight and traditional Mexican cuisine as you marvel at the quirky and mind-blowing art of the tequila bottles on display and listen to live music all night long.  If you want to take a bottle home, their liquor store just downstairs has very special tequila bottles for purchase that cannot be found anywhere else in the country.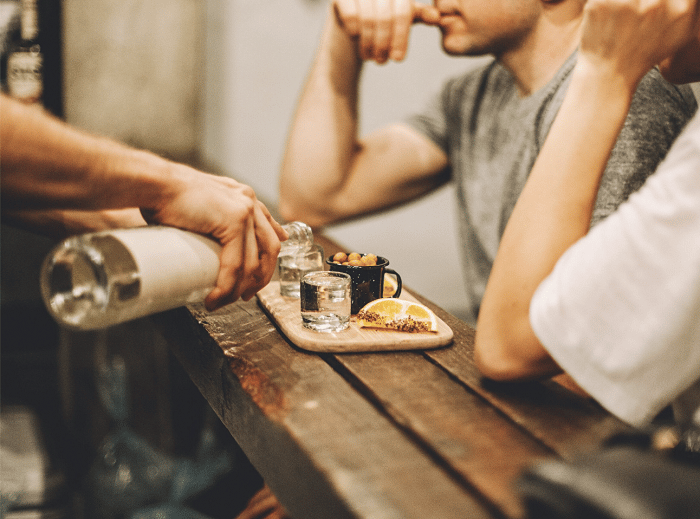 When you're ready to expand your agave liquor experience, visit the first mezcal tasting room in San Diego, Tahona.  Trust their expert staff to take you on a tasting journey through the mezcal distillery regions of Mexico to explore the depth of character inherent in this older cousin of tequila.  Their deliciously intentional menu highlights the flavors and richness of mezcal and how it plays with and compliments their stellar food menu.  
Nestled nearby in the seaside, laidback town of Ocean Beach is one of the newest tequila bars and eateries in San Diego, La Doña. La Doña opened its doors in 2020 as an open-air tequila bar and restaurant serving up an extensive tequila menu with over 50 Reposado, Anejo, and Blanco varieties for your sipping and cocktail pleasure. For those with a taste for the bracing, smokey sensation of a hearty mezcal, their equally extensive mezcal menu is yours for the sipping.  With three varieties of mezcal flights to choose from, your appetite will be primed for a plate or molcajete of Chef Gabby's Guadalajara and Baja California-inspired offerings. Weekly specials include an early start to Happy Hour from 2:30pm-5:00pm Tuesday-Friday and an all-day Happy Hour on Mondays.  La Doña also has you covered for weekend brunch with a specialty brunch menu on Saturdays and Sundays.  This intimate setting provides the perfect first date spot to wow your new person with. 
Boasting two locations in Carmel Valley and Encinitas, is an elevated tequila and Baja cuisine experience, Death By Tequila.  The unique vibe of this tequila spot honors the extremes of light and dark, and their salsa menu is just as fun to explore as their tequila offerings.  Each cocktail is an expression of artistic craftsmanship.  Try the Tropical Teaparty that comes with a sizable skull-shaped, tropical fruit-infused ice cube that leers up at you while you sip on the lush flavors that accompany a fresh Chinaco Blanco Tequila. A south-of-the-border twist on a traditional old-fashioned is served up with a Tepozan Anjeo in place of whiskey when you order the Jalisco Old Fashioned.  This cocktail is finished with Aztec chocolate bitters to seal the deal as the unique interpretation of an old-fashioned you'll ever taste.
For a light and bright tequila experience, head over to Piña up north in Encinitas.  Since their doors opened in 2021, this family-owned and operated spot has hosted a concentrated menu of simple and intentional cocktails and dishes, all with ingredients sourced locally from San Diego.  While home to a full bar that includes various craft beer brands, the focus is on the tequila with perfectly balanced margaritas and innovative classic cocktail interpretations, like their fun twist on the classic mule that leans south of the border and is dubbed the Mezcal Mule.  For the food and mezcal aficionados in town, catch one of their popular monthly Mezcal Pairing Dinners, featuring a four-course dining and mezcal experience that will leave your palate well traversed and sated. August's pairings include a persimmon, radish, cucumber, tomato, and red onion ceviche, paired with a light and slightly sweet Chichicapa Mezcal.  These monthly dining experiences are a great opportunity to expand your mezcal palate in a comfortable and inviting atmosphere.  
Next on the list is a San Diego classic!  La Puerta has two locations in Mission Hills and in the Gaslamp Quarter and offers guests delicious tacos, tunes, and tequila. La Puerta honors the tradition and time that goes into crafting the perfect barrel of tequila with a knowledgeable staff and over 100 carefully chosen tequilas straight from Jalisco, Mexico, in their selection. A popular, must-try San Diego dish here is their carne asada fries.  La Puerta has taken the So Cal favorite and built an entire section of their menu to suit any carnivorous craving and combination of this adapted local favorite. Pair your carne of choice with one of their specialty tequila cocktails, like a tajin-rimmed Cadillac margarita made with añejo tequila, dubbed the Lowrider. With its open, large and inviting restaurant, La Puerta is the perfect spot to pick for a bachelorette party or a big group. 
Whether you want to sip, savor, or take a shot with legs (salt and lime), San Diego has you more than covered with unique and varied venues to enjoy this classic agave liquor.  Better yet, a Where to Taste the Best Tequila in San Diego tour with So Diego will get you to all the best spots, so the next time you visit, you will be the tequila expert. Head to Old Town San Diego and the nearby neighborhoods for the best tacos, premium tequila tastings, and live entertainment. Just remember to enjoy responsibly, and always tip your bartender.